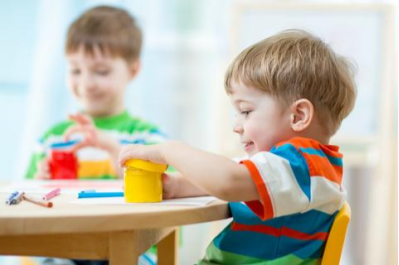 ---
My two year old son was diagnosed with Pervasive Developmental Disorder this past summer and was almost nonverbal with only a few approximation of words. He was already receiving Early Intervention and making many strides in other areas yet he was still nonverbal. My husband came upon the Baby Bumble Bee website and figured we would try anything. We ordered the 1st vocabulary Baby BumbleBee Video to see if he liked them. He not only loved them, within a few days of watching the video, he was saying every word on that Volume, even without the verbal prompt and with our help he was carrying on those words to actual things in his environment. Henceforth we ordered the entire set and his vocabulary is kicking in full speed ahead. His Speech Therapist was amazed when she observed him watching the videos and repeating every word. Another wonderful aspect of the videos is that they depict many different pictures of each word. This helps children with PDD to learn to generalize. Thank You.
- Mary M. Wappinger Falls, NY
---
Dear Baby Bumble Bee, I want to express my deepest gratitude to BabyBumble Bee. My 2 ½ year old son was diagnosed with PDD and had minimal speech.Thanks to speech therapy and your videos Tommy now has a vocabulary of over 150 words. When I asked his speech therapist about these tapes she was very skeptical and said that these tapes seldom help,and it wasn't the answer. Well, she was wrong... Tommy talks more with your tapes than with his therapist. (Of course, she was shocked!) He not only learned his colors, but he learned opposites and action words. And the most beautiful thing is... He uses his words appropriately. He even learned how to nod his head to yes and no!!! Thank you for helping us in one of our darkest moments and helping our child move ahead. If I can suggest one thing to the parents reading these reviews, give Baby Bumble Bee a chance. You won't regret it. There's nothing like the feeling of hopelessness when it comes to not being able to help your children. This is one way you are able to help and get results. REAL RESULTS!! Please try it, you have nothing to lose and everything to gain. Thank you Baby Bumble Bee. Keep the tapes coming.
- Sue S. Whitestone, NY
---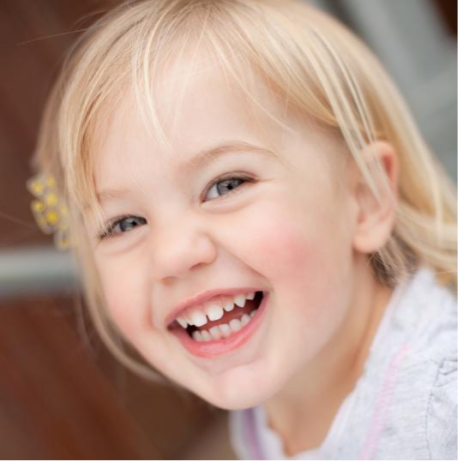 ---
We have a six year old son who has autism. He was completely non-verbal until he was past his fourth birthday, despite help from early intervention, speech and language therapy through the hospital and occupational therapy. He was also attending a preschool for kids with disabilities. Many things came together to help Charlie learn language, one of them was the Baby Bumblebee videos. We started with them when he was much younger and when he finally did start talking many of the phrases were off of the tapes. At first it was just repeating what was said (echolalia), but later the words became meaningful to him. He has also learned to sight read all of those words and type many of them as well. It was with great foresight that you included the spelling for each of the words and concepts presented. One thing that I love is that while teaching kids with autism words is important, my son learned to express himself emotionally from your tapes. The emotions that he saw on Otis and Olivia at the Park were eye-opening to him. He loves that movie. Thanks for the videos. We keep buying them. This time I am buying the alphabet and phonics movie and the Opposites movie. Charlie has no concept of opposites yet and I am hoping that this will help him.
- Janet B. PA
---
We definitely started our 21-month-old daughter, Hallie, on "entertainment only" t.v. and videos too soon, and, as a result, we noticed her speech development was slightly behind. I panicked until I found your website. I was afraid that because she was used to "entertainment only" that she wouldn't respond as well to your videos, but I bought the 10-Volume Set anyway. To our pleasant surprise, she took to the videos almost right away! She can say all 69 words from the first 3 Vocabulary Builder videos - she even runs around trying to find the objects in our own home to show to us. I just wanted to say thank you so much for developing such a wonderful teaching tool to help parents to help children achieve their best!
- Kimberly N. / Provo, Utah
---
Just to say thanks for the great videos. We have videos from several different early child development companies. We like them all. However, we particularly appreciate the strong educational context from which the BabyBumbleBee videos come. Additionally, we really like that the kids are so normal looking. In fact, not all children are physically beautiful, but they all do have the capacity to learn. Thank you for demonstrating that.
- Virginia & Mark D.
---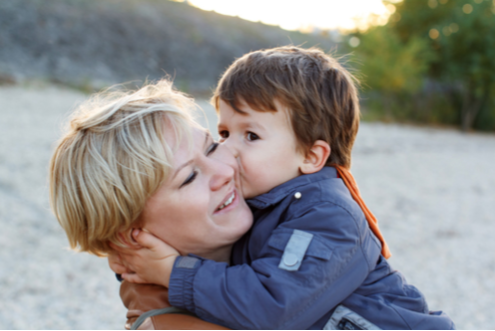 ---
Thank you so much for the videos. They are wonderful. The students are now asking for the videos by name. Every Friday we watch a ½ hour video and they now ask for a Baby BumbleBee video to watch. We (the teachers) love them because it helps them to learn vocabulary and encourages them to interact. All it takes is for one of the students to start doing what they are doing on the screen and then they all get into it. It is so neat to see them involved on their own. We all here at Burger School are very appreciative of your generous donation. With all the cuts that occur in the schools, it is hard to be able to come up with extra money for purchases such as yours. Thank you again.
- Sandy Bosker, a Pre-school Teacher for kids with Autism
---
My wife and I purchased the entire Baby Bumble Bee series for our daughter who has been diagnosed with PDD / Autism. At age 2 and prior to purchasing these videos, she could say maybe 3 words. Now, at age 2 1/2,through these videos and a home based ABA program, she can say over 100 words and is well on her way to being"recovered." Our daughter can't get enough of these videos and always asks specifically for "Bee." The Baby Bumble Bee videos are amazing in the results they have produced in our daughter and well worth every penny. We highly recommend them.
- JB from Des Moines, IA
---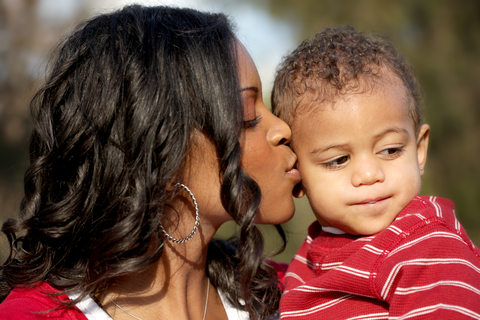 ---
I just wanted to tell you how great your videos are. I am the mother of an Autistic 3 year old child. Recently I purchased all three volumes of the vocabulary builders. He has been watching them so much. He loves them! Since watching your videos his vocabulary has improved tremendously. I thank God for you and your company! I can hardly wait to purchase the other videos. My child's speech pathologist was also very impressed with the videos. By the way,he loves your videos as much as he loves Toy Story. No joke!! Thanks so much.
- Jennifer Las Vegas, NV
---
I purchased your videos when I found out my daughter had PDD at two years of age. I was reluctant at first, but purchased the vocabulary building videos. She started out at two words and after watching them and purchasing action words she now has a vocabulary of over 100 words. She loves them and now comes tome and asks for them by name. How wonderful your products are and today I ordered your new releases and have about 11 videos now. Thank you so much, you have helped my child to better communicate with me and for that I will be forever grateful. Thank You!
- H.L.
---
The Baby BumbleBee series has been a wonderful and essential tool in educating my autistic daughter. In addition to the limited vocabulary she has acquired it has helped her with appropriate play, interaction with other children and eye contact. The mesh of T.V., music, children at play, and repetition holds her attention so that now she repeats back every word on the Baby BumbleBee series.She even anticipates what is coming next! Thank you so much!!
- Eileen C. Idaho City, ID
---
Hi, my 3 1/2 year old son has chronic ear infections. After many operations, we hope we finally have his problem under control. But, because of 16 ear infections in 20 months You can imagine that he is a little late in developing his speech. When you can't hear, you can't talk. I have been researching on the internet to see what we can do to help him learn how to speak while he is waiting to start is speech therapy next month. I read that these videos were recommended. I have to say, I had my doubts. But, after one week of him watching these we already see a difference. Plus, he loves them. He demands to watch them every night. He loves Motorized Madness, Opposites, Crazy for Colors and Alphabet. I am extremely, extremely pleased with the product. When you see your child suffer for many month because of a virus that refuses to go away. Then you see your child have really bad temper tantrum because you can't understand what he's trying to tell you and he doesn't understand what you are trying to tell him. AND suddenly, in a period of 3 weeks, he makes sentences and he's able to count from 1 to 10. I CAN UNDERSTAND MY CHILD. IT IS THE MOST AMAZING FEELING OF RELIEF.
THANK YOU VERY MUCH - Caroline, Montreal Canada
---
My daughter is 2 years and two months, but her speech hadn't really taken off like we were hoping. I take some of the blame, since it's just me and her during the day, and I'm not the most talkative person on the planet. She didn't have the biggest of vocabularies. When she wanted more milk or juice, she simply hit me in the leg with her cup, lol. Our pediatrician was really getting concerned, although I knew she was ok. We've had the Baby Bumblebee videos's for less than a week, and she's already learned about 90% of the first one. My husband and I are already talking about trading it in for the second. It's also seeming to make her more receptive to things not on the video. For example, a few days ago and for the first time, she handed me her cup and said, "All gone." I'm just stunned by the improvement we've seen in her since we started working with her on the video. I can't leave her alone with the videos, however. When I did that one day to sneak in a shower, I came out to find her playing with her kitten and paying no attention to the video. I think it helps if I'm there to redirect her attention to the TV. But it's really peaceful to put her and her infant sister in front of the video for half an hour each day and catch up on a bit of knitting while I act excited about the video. ("Oooh, look! It's a firetruck/teddy bear/baby!") Seriously, Audrey's vocabulary has increased by 50% since we started with Baby Bumblebee. Thank you so much for providing me with a tool to get her to start talking!
- Bev M.
---
I have 15 month old twins. A boy and a girl. They received the vocabulary builder videos 1, 2, and 3 for their one year birthday. The first time I played the 1st video, the next day my daughter turned to me and pointed to her eyes and said "eyes". My son soon followed. Now they point to their eyes, and nose. They can say a lot of the words from all the videos (cookie, shoes, cow, etc.) I love these and cannot wait until more are released! Alex, loves your videos. His vocabulary far exceeds the other children in his playgroup. Not only does he recognize the objects in the video but he recognizes them in his books and when we are out and about. My 15-month-old son has a vocabulary of almost 50 words."
- Heidi H.